AIM-BPSW Blood Pressure Synchronization Sensor Installation and Operation Instructions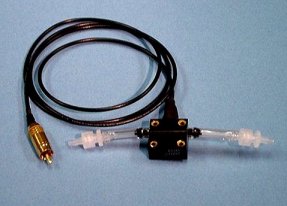 Figure 1
Purpose
The AIM-BPSW Blood Pressure Synchronization Sensor allows any blood pressure (BP) monitor to initiate an AIM-8 ensemble average. This is accomplished by using the AIM-8 system's Remote Start input connector. The Remote Start connector is located in the lower right corner of the AIM-8 monitor.
By using the AIM-BPSW synchronization sensor, either an automatically or a manually operated BP monitor can control AIM-8's data acquisition operation. This is done by automatically starting an ensemble averaged (EA) impedance cardiography measurement when the BP cuff nears its peak pressure inflation. In this manner, cardiac performance data is acquired during the same time frame as the BP values. Using the BP Entry window, the acquired BP values can be entered into the AIM-8 system after all cardiac performance and BP data have been collected for each EA measurement.
AIM-BPSW Assembly Description
Figure 1 shows the AIM-BPSW sensor assembly. The sensor assembly consists of a sensor pressure transducer and a start signal cable with a RCA phono cable, which mates with the corresponding connector on the AIM-8 monitor. This connector is labeled 'P-SW.'
The transducer contains two flow-through air pressure sensor ports for sensing the BP cuff pressure as air flows into or out of the cuff. These transducer ports consist of 1/8" tapered hose fittings.
The total assembly is shipped with two short pieces of 1/8" inner diameter (ID) Tygon tubing that are terminated with Luer Lock fittings (one male and one female) for easy connection to many BP cuffs. In the case that the user's BP cuff hose has to be cut in order to insert the AIM-BPSW sensor assembly, two additional Luer Lock fittings (one of each gender) are also supplied with the sensor. This arrangement of employing two pairs of Luer Lock fittings permits the user to easily insert the BP sensor into the cuff's air line and to easily remove it, if it is not needed with the cuff.
NOTE: Some of the newer Dinamap BP monitors use slightly larger ID tubing that require Luer Lock connectors with 5/32" tapered hose fittings. If this is the case, BIT, inc. can supply these Luer Lock connectors at no additional cost.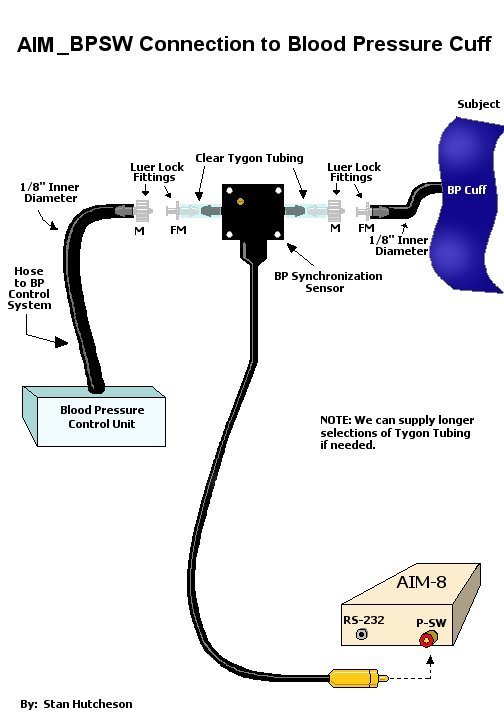 Return to top of page
---
Back to Applicatons Information Page

MicroTronics HomePage