AIM-8-V3 Wearable Cardiac Performance Monitor
THIS ITEM HAS BEEN DISCONTINUED!!!!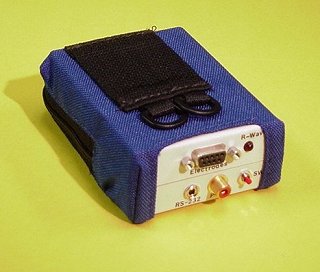 General Information
The AIM-8-V3 is designed to obtain cardiac performance information from human and animal subjects during ambulatory conditions. Since the AIM-8-V3 contains both an internal computer and a bioelectric impedance cardiograph, it has the capability of acquiring and processing real-time impedance cardiography signals, as well as computing the cardiac performance indices. The AIM-8 can also record gross body activity during each ensemble-averaged measurement, which it then saves along with the impedance data. The AIM-8-V3 also stores the time and date that each measurement was obtained.
The battery-powered AIM-8-V3 can obtain and store up to 100 cardiac performance measurements and computed cardiac indices along with the ensemble-averaged waveforms for ECG, dZ/dt, and Zo. Also, the Data Scan information, which contains the data pertinent to each cardiac cycle comprising each ensemble-averaged measurement, is recorded and uploaded along with the data for future use during editing.
Accessories
The AIM-8-V3 has very few connectors and controls. As can be seen in the picture below, it has a 9-pin connector for the impedance electrode assembly, a phone plug for the RS-232 serial communications cable, a RCA connector for the remote blood pressure start, a manual start push button, and a red LED (The red LED indicates when impedance data is being collected during an ensemble average by flashing when the R-Wave of the ECG is detected for each cardiac cycle.).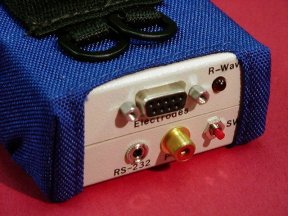 Below is a picture of the AIM with the AIM-BPSW and the AIM 5-lead impedance electrode cable connected to the unit.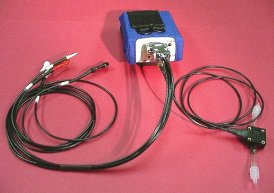 The AIM-8-V3 comes with a carrying case and a webbed waist belt designed to enable the subject to easily ware the AIM for an extended period of time (note: the AIM is pictured in its carrying case in all the photos on this page). Below is a picture of the carrying case by itself along with the webbed belt.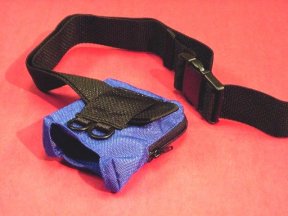 ---

MicroTronics HomePage
Back to Complete AIM-8 System Page