COPWORKS Software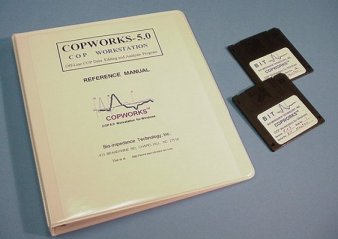 COPWORKS is a data retrieval-editing software package that allows for multiple users to edit, analyze, graph, print, and report impedance cardiography data that has been collected by the COP-WIN or AIM-8 system. This is especially useful for users who wish to collect data on an "in lab" computer and then edit-analyze the acquired data on a different computer such as their "office" computer.
COPWORKS version 5.10 comes standard the Complete AIM-8 Software System Package.
COPWORKS gives AIM system users who do not have a COP-WIN system the ability to convert AIM data files to COP-WIN files for editing and report generation
COPWORKS Version 6.21 is optional for COP-WIN/HRV system purchases (it should be noted that the COP-WIN/HRV program is only functional on the computer where the data acquisition hardware is installed).
Both COPWORKS version are sold with a multi-station software license and may be installed on multiple computers that are the property of a single customer location.
See ANNOUNCEMENTS for update news on COPWORKS!
---

MicroTronics HomePage
Back to the Complete AIM System Page