Complete AIM-8 System Package











Complete AIM-8 System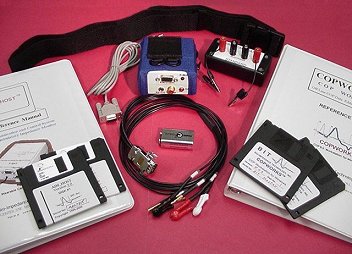 The Complete AIM-8 System Package includes all the necessary hardware and software for cardiac performance measurements and data analysis of ambulatory individuals. Unlike the Basic AIM-8 System, the Complete system contains COPWORKS, a multi-user editing, printing, graphing, and analysis program for off-line AIM data processing.
The Complete AIM-8 System Package includes the following:
One AIM-8 monitor, the device that accumulates the cardiac performance data (and measures activity) on ambulatory individuals.
One RS-232 serial communication cable, which links the AIM-8 monitor to the host computerís communication port allowing the AIM to send data to and receive data from the AIMHOST software.
One, 5-lead electrode cable assembly, which is a shielded five-wire impedance electrode cable assembly for sensing the subjectís bioelectric- impedance and ECG signals
A calibration unit for calibrating the AIM monitor.
A carrying case and webbed waist belt for easy carriage of the AIM monitor on ambulatory subjects.
One 9V battery to power the AIM monitor An AIMHOST and AIM monitor software/hardware manual.
An AIMHOST software and AIM monitor manual.
AIMHOST, a program is designed to permit easy and efficient communication with the AIM for assessing cardiac performance and to allow the user to control nearly all of the AIMís operational functions.
COPWORKS software and software manual. COPWORKS is an off-line dat processing program for multi-user data editing and analysis.
---

MicroTronics HomePage
Back to the Complete AIM System Page